Do you need help correcting uneven or chipped teeth? Dental veneers may be the perfect solution; veneers are typically used to help encase the surface of your front teeth. With the help of veneers, you can gain a better smile – improving the colour, shape, or size of your teeth.
Dental veneers are commonly used for cosmetic dentistry and restorative purposes. They are made with a thin shell that matches the shade of your existing teeth. When cracked, uneven, or damaged teeth keep you from smiling, then dental veneers could be the right choice.
Learn more about veneers and find out if our Melbourne Dentists can help restore the condition of your smile.
What Are Dental Veneers and Why Are They Used?
As discussed, dental veneers are used to cover the front surface of your teeth. They are typically made from a resin composite material or porcelain.
The porcelain veneers are better at resisting stains and can mimic the reflective properties of real teeth, which appears more natural. Resin veneers tend to be thinner, which does not require as much of the natural tooth to be removed, but they may not last as long as the porcelain veneers.
Dentists have used dental Veneers for a number of reason and thee include:
They can be used to cover problem teeth
Veneers are often used to cover discolored teeth
Some people use veneers to close gaps between teeth
You can use veneers to restore broken or chipped teeth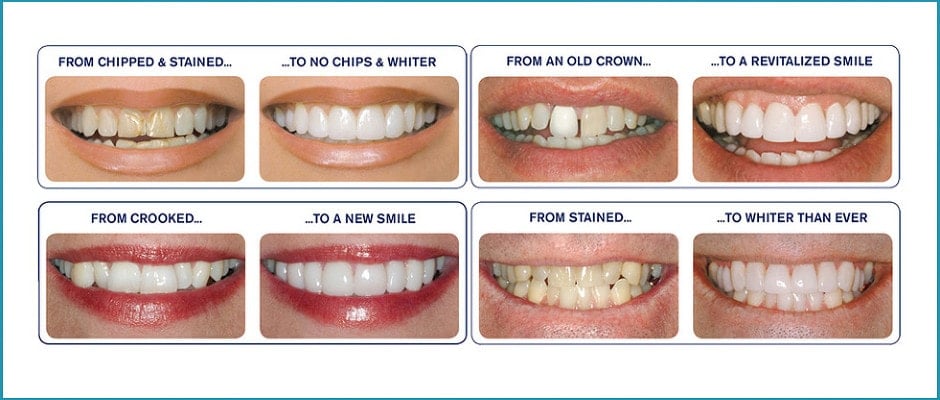 Basically, veneers can help improve the look of your smile, by taking care of teeth that happen to be irregularly shaped, misaligned, or uneven.
There are two different materials that are often used to create dental veneers – composite resin and porcelain. They both have their own advantages and disadvantages. The choice may depend on your specific goals and how much you are willing to spend on veneers.
The composite resin material is thinner than porcelain and may be a suitable option for minor restorative work.
After the veneer is attached to the tooth, the dentist will bond and shape the material. This is done to match the material to your teeth.
Composite resin veneers are more affordable, but they may not last as long. Typically, composite resin veneers will last 4 to 8 years. They also require more attention to oral hygiene and proper care. This is because the material is more likely to chip.
Another material that is often used for veneers is porcelain. The porcelain material costs more than the composite resin, but it is more durable. Your porcelain veneers may last up to 20 or 25 years. During this time, they will probably not require any specific maintenance or special care.
For porcelain veneers, an impression will need to be made of your teeth. This impression is then shipped to a lab, where technicians will create the final set of veneers.
After the veneers are made, you will return to the dentist to have the veneers attached. Your dentist examines the veneers to ensure that they are a perfect fit. He or she will then attempt to match the colour of your existing teeth.
What is the Process for Getting Dental Veneers?
It starts with a few trips to your dentist. There are three stages to this procedure. This includes diagnosis, preparation, and bonding.
Diagnosis and Planning
When you meet with your dentist for a consultation, you will discuss what you intend to get out of this procedure. Your dentist needs to understand what you hope will happen by adding dental veneers. For example, you may want to correct the appearance of your teeth.
During this consultation, your dentist could make the impression and possibly use x-rays to get a better look at your teeth.
Preparation of the Teeth
Next, the dentist prepares the tooth to fit the veneer. Generally, about half a millimeter will be removed from the enamel of the tooth. The idea is to make the veneer appear seamless.
The veneer is constructed from an impression of your teeth. With porcelain veneers, this is performed in a lab. Composite resin veneers may be created the same day at the dentist office.
Bonding the Veneers to Your Teeth
When the veneers are ready, they will be permanently attached. First, the dentist places the veneers on your teeth to make sure that they fit properly. Your dentist will also want to match the colour of your existing teeth.
Next, the tooth is cleaned and polished. Etching is done to make the surface of the tooth rough. This makes it easier to bond the veneers to your teeth. A specific cement material is placed on the veneer. The veneer then gets positioned over your tooth. A light beam is then used to harden the cement and bond the veneer.
Your dentist can then remove the additional cement and evaluate your bite to make sure that the veneer did not interfere with your ability to bite or chew. Minor adjustments may be made at this point before the cement firmly settles.
Once the procedure is completed, your dentist could require a second appointment. This will allow your dentist to check the veneers to ensure everything worked properly.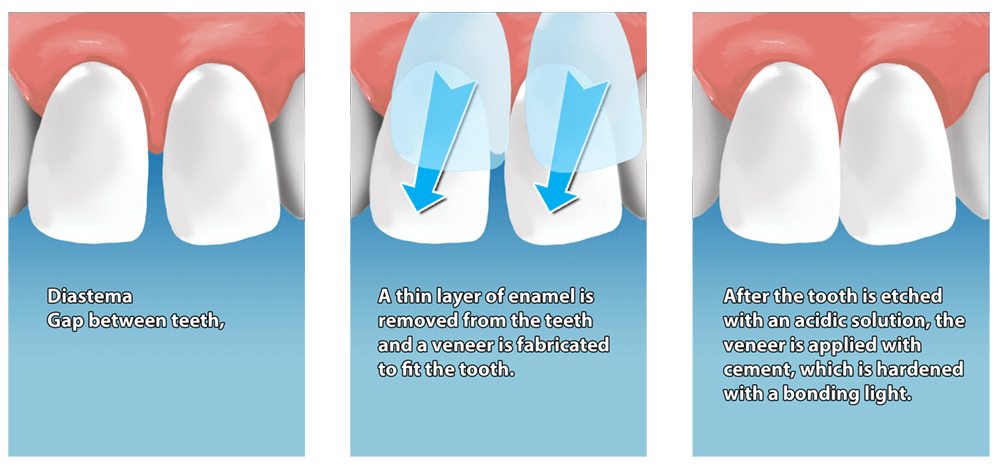 Benefits of Porcelain Dental Veneers
The use of dental veneers provides many different advantages. You can improve the appearance of your smile, while also correcting chips or cracks. Though, porcelain dental veneers provide several additional benefits:
The porcelain does not affect the gum tissue
The porcelain can be adjusted to match your teeth
Porcelain veneers appear more natural
The porcelain material is more durable than composite resin
There are no major disadvantages to dental veneers. Though, you should be aware of a few potential issues. You need to keep in mind that this process cannot be reversed. Also, porcelain veneers tend to cost more than the alternative – composite resin.
How Long Will Your Veneers Last?
Veneers should last for several years or longer, depending on the material that you use. Also, eating and oral hygiene habits can impact the lifespan of the veneers.
With proper care, composite resin veneers should last for 4 to 8 years. Porcelain veneers can last up to 25 years, with good hygiene habits. Though, the average duration is about 10 years.
Is There Any Pain Involved in Getting Veneers?
The procedure should not create any pain. Some people notice a little extra sensitivity following the bonding of veneers. But, this should pass within 48 hours.
If you continue to experience any extreme sensitivity, then you should schedule a follow-up appointment with your dentist.
Will You Have to Adjust Your Hygiene Habits?
Dental veneers will not require any special care. You will just need to use proper hygiene habits. This means brushing at least twice per day, flossing on a regular basis, and rinsing your mouth with antibacterial mouthwash.
You should also be aware that veneers can get stained, just like your real teeth. Porcelain veneers are less susceptible to staining, but excessive coffee drinking or smoking can lead to stains. If you want your veneers to continue matching the shade of your other teeth, you should avoid any beverages or habits that will stain your teeth.
Are There Any Complications to Getting Veneers?
Even though there are not any major disadvantages to getting veneers, there are a few potential risks involved. These are rare, but they need to be addressed so that you can make an informed decision.
Some people experience tooth sensitivity after getting veneers. For example, you may experience sensitivity when your tooth is exposed to hot or cold temperatures. This typically occurs when the enamel is worn and the tooth is exposed.
Dental damage can occur during any dental procedure. If this happens, your dentist will need to determine the best course of action. Sometimes, the damage can be repaired instantly while more severe damage could require further surgery.
Another issue is the fact that veneers will likely need to get replaced in the future. They do not always provide a lifetime solution to fixing your smile. Also, future dental issues could require the removal of the veneers.
If you want to minimize the risks of complication, you should always work with a trusted dentist in your area. You also need to follow any recommendations of your dentist. This applies to recommendations before the treatment and following the procedure.
Dental Veneers Alternatives
If you do not think that dental veneers are your best option, you may consider bonding or dental crowns. Bonding can help shape teeth. Crowns can help repair major issues, such as cracked or chipped teeth. Compared to these options, veneers provide an immediate solution. Less work is involved, so that you can restore your smile as soon as possible.
Dental veneers provide a great solution for improving the condition and appearance of your teeth. You can learn more about dental veneers by scheduling an appointment with your local dentist.
Call us today to schedule an exam and find out if dental veneers are the right fit!