Dental fillings help us restore normal function and shape to a tooth damaged by decay. This is done by filling in cavities (or holes) in the tooth with a strong, durable, and malleable material. Additionally, filling in cavities also prevents further damage and decay to the tooth, gum, and surrounding elements of the mouth.
What is tooth decay?
Poor oral hygiene is most often responsible for damage and decay to the teeth. Following healthy practices can help in preventing the build-up of damage and decay. However, it is not uncommon to have cavities and require a filling from time to time.
Our teeth have a natural and sticky layer of germs called plaque. These turn the sugar in food and drinks into an acid which causes damage to the teeth. Cavities are formed which promote more build-up of food and increase the amount of decay. If left untreated, it can reach the sensitive gums and be the source of a lot of pain and lost smiles.
It is better to catch cavities early on and use preventive measures to avoid hefty costs and a lot of pain. However, cavities and decay can go undetected for a long time if they are in difficult to see places. It is very important to have regular check-ups with your dentist at least every 6 months to stay on top of your oral hygiene.
What to expect from a Dental Filling
Dental fillings can be done in one sitting, and generally do not require multiple appointments for the procedure. Before beginning, our qualified dentist will examine the teeth, gums, and surrounding bones. An X-ray is usually not required, but each case is different!
A dental filling is only recommended if there is minor damage to the teeth. A root canal (or another procedure) may be required if there is significant damage or decay to the teeth and the problem has reached the gums.
Once our dentists have ensured that dental filling is the way to go, they will discuss different filling options with you. Several types of fillings are available and discussed further in this article.
The procedure itself doesn't take very long. Our dentist will first numb the area in your mouth with local anaesthesia, so the procedure is pain-free. If you have any allergies to anaesthetic agents, make sure you discuss your options with our friendly staff before commencing the dental filling procedure.
Once the anaesthesia has been administered, a drill may be used to remove the decay and shape the tooth for a filling. The next step is etching your teeth with an acid gel for better bonding between the teeth and the filling material of your choice. The tooth is then layered on with the filling and hardened using a bright light.
Your dentist may perform a bite check to ensure that the filling is the right fit for you. It also ensures that the filling does not hamper your chewing and/or speech. Your filling should feel and act like a normal tooth. Feel free to call and speak to your dentist if anything feels awkward or out of place.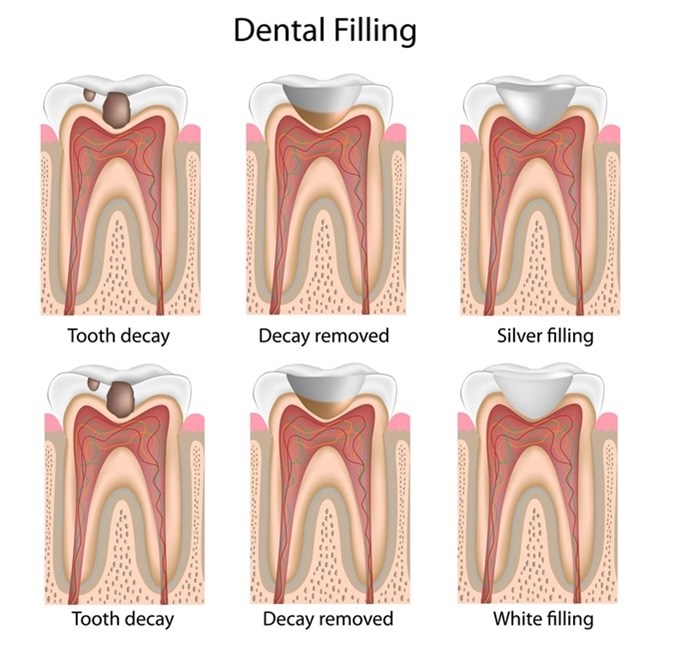 What materials are used for a filling?
There are a large variety of materials that can be used for dental fillings. It is important to consider the costs and benefits before choosing your desired material. You are more than welcome to ask any questions about which dental filling material is suitable for you.
The most commonly used materials are:
Porcelain
Porcelain fillings are the most common choice of dental fillings as they can be made to match your natural teeth colour. Moreover, they are stain-resistant and highly durable. Their major drawback is only their higher cost.
Gold
Gold dental fillings are also a popular choice despite their noticeable colour. They last the longest (up to 20 years) and are one of the strongest filling options available. Gold fillings are also one of the most expensive options available.
Amalgam
Silver, copper, tin, and mercury alloys and compounds can be used to make a durable, strong, and cheap alternative to gold fillings. Their major disadvantage is their dark and highly noticeable colour.
Glass Ionomer
Glass ionomer fillings are tooth coloured fillings that have a unique advantage. Their material composition releases fluoride over time and promotes healthier teeth. However, they wear easily and need to replaced faster.
Composite Fillings
A compound of acrylic resin and finely ground glasslike particles can be used to make an inexpensive dental filling. However, they don't last very long and are prone to dislodging under stressful conditions.
How do I care for dental fillings?
You may experience some sensitivity after the dental filling procedure. It should not last for longer than a few weeks. If the sensitivity persists longer, please call us dentist so that we can suggest some de-sensitising methods to help you.
It is also advisable to avoid sticky foods for some time after the procedure and chewing with the side without the dental fillings. As always, practice proper oral hygiene methods to prevent damage and decay.
How much does it cost?
Dental fillings cost anywhere between $100 to $300. The cost is highly dependent on the material used and the extent of damage to the teeth. It can be a good idea to discuss the costs with your dentists. Your private health insurer may offer some rebate depending on your health cover.